2013 Young Adult Reading Challenge
Host: The Overstuffed Bookshelf
Level: The Mega size YA Reading Challenge – Read 50+ Young Adult novels.
Sign Up
1. Captivate (Need, #2) by Carrie Jones
2. Dancing Queen by Erin Downing
3.
Katana (Katana, #1) by Cole Gibson
4. The Name of the Star by Maureen Johnson
5. Everneath by Brodi Ashton
6. Number the Stars by Lois Lowry
7. Tyger Tyger by Kersten Hamilton
8. Spirit Walk by Richie Tankersley Cusick
9. Claire de Lune by Christine Johnson
10. The Alchemy of Forever by Avery Williams
11. Pushing the Limits by Katie Mcgarry
12. Embrace by Jessica Shirvington
13. Wildefire by Karsten Knight
14. Starcrossed by Josephine Angelini
15. Sometimes It Happens by Lauren Barnholdt
16. Just One Day by Gayle Forman
17. Such A Rush by Jennifer Echols
18. She's So Dead to us by Kieran Scott
19. Cinder by Marissa Meyer
20. Goose Chase by Patrice Kindl
21. Grave Mercy by Robin LaFevers
22. The Darkest Minds by Alexandra Bracken
23. Corset & Clockwork: 13 Steampunk Romances by Trisha Telep
24. Getting the Girl by Markus Zusak
25. Prom Nights from Hell by Meg Cabot
26. The Chosen One by Carol Lynch Williams
27.
How to Ruin Your Boyfriend's Reputation by Simone Elkeles
28. Overprotected by Jennifer Laurens
29. So Much Closer by Susane Colasanti
30. Unraveling Isobel by Eileen Cook
31. Scary Mary by S.A. Hunter
32. Burning Emerald by Jaime Reed
33. The Boy Recession by Flynn Meaney
34. Faded Denim by Melody Carlson
35. Going Too Far by Jennifer Echols
36. The Catastrophic History of You and Me by Jess Rothenburg
37. To Meet You Again by Hayley Nelson
38. Bad Girls Don't Die by Katie Alender
39. Swiss Secrets by Carolyn Keene
40. The Beast from the East by R.L. Stine
41. Romiette and Julio by Sharon Draper
42. Someone to Love Me by Anne Schraff
43. Aurelia by Anne Osterlund
44. Take Me Now by Faith Sullivan
45. Look for me by Moonlight by Mary Downing Hahn
46. Article 5 by Kristen Simmons


Read: 46/50
To-Read: 4/50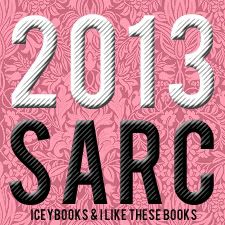 2013 Standalone Reading Challenge
Host: Icey Books & I Like These Books

1. Such A Rush by Jennifer Echols
2. Goose Chase by Patrice Kindl
3. Sometimes it Happens by Lauren Barnholdt
4. Number the Stars by Lois Lowry
5. Dancing Queen by Erin Downing
6. Prom Nights from Hell by Meg Cabot
7. The Chosen One by Carol Lynch Williams
8. Corset & Clockwork: 13 Steampunk Romances by Trisha Telep
9. Unraveling Isobel by Eileen Cook
10. Scary Mary by S. A. Hunter
11. So Much Closer by Susane Colasanti
12. Overprotected by Jennifer Laurens
13. The Boy Recession by Flynn Meaney
14. Going Too Far by Jennifer Echols
15. The Catastrophic History of You and Me by Jess Rothenburg


Read: 15/15
2013 A-Z Book Challenge
Host: Megz Madd Readz
A: Alchemy of Forever, The by Avery Williams
B: Boy Recession, The by Flynn Meaney
C: Captivate (Need, #2) by Carrie Jones
D: Dancing Queen by Erin Downing
E: Everneath by Brodi Ashton
F: Faded Denim by Melody Carlson
G: Goose Chase by Patrice Kindl
H: How to Ruin Your Boyfriend's Reputation by Simone Elkeles
I
J
K: Katana (Katana, #1) by Cole Gibson
L
M
N: Name of the Star, The by Maureen Johnson
O: Overprotected by Jennifer Laurens
P: Pushing the Limits by Katie Mcgarry
Q
R
S: Spirit Walk by Richie Tankersley Cusick
T: Tyger Tyger by Kersten Hamilton
U: Unraveling Isobel by Eileen Cook
V
W: Wildefire by Karsten Knight
X
Y
Z
Read: 16/26
To-Read: 10/26
2013 Fairy Tales Retold Reading Challenge
Host: Debz Bookshelf
Level: Lady in Waiting: 4-6 books

1. Cinder by Marissa Scott
2.Goose Chase by Patrice Kindl



Read: 2/6
To-Read: 4/6
2013 Feminist Reads Challenge
Host: The Hiding Spot
Level: Hard: 10+ books
Sign Up
1. Katana (Katana, #1) by Cole Gibson
2. The Name of the Star by Maureen Johnson
3. Everneath by Brodi Ashton
4. Number the Stars by Lois Lowry
5. Tyger Tyger by Kersten Hamilton
6. Spirit Walk by Richie Tankersley Cusick
7. Claire de Lune by Christine Johnson
8. The Alchemy of Forever by Avery Williams
9. Pushing the Limits by Katie Mcgarry
10. Embrace by Jessica Shirvington
11. Wildefire by Karsten Knight
12. Just One Day by Gayle Forman
13. Such A Rush by Jennifer Echols
14. She's So Dead to us by Kieran Scott
15. Cinder by Marissa Meyer
16. Grave Mercy by Robin LaFevers
17. The Darkest Minds by Alexandra Bracken
18. Unraveling Isobel by Eileen Cook
19. Overprotected by Jennifer Laurens
20. The Chosen One by Carol Lynch Williams
Read:
20/20
Let Me Count the Ways Reading Challenge
Host: Avanti's Place
Level: Mansion: 10,001+ pages
Sign Up
1. Captivate (Need, # 2) by Carrie Jones
2. Dancing Queen by Erin Downing
3. Katana (Katana, #1) by Cole Gibson
4. The Name of the Star by Maureen Johnson
5. Everneath by Brodi Ashton
6. Number the Stars by Lois Lowry
7. Tyger Tyger by Kersten Hamilton
8. Spirit Walk by Richie Tankersley Cusick
9. Claire de Lune by Christine Johnson
10. The Alchemy of Forever by Avery Williams
11. Pushing the Limits by Katie Mcgarry
12. Embrace by Jessica Shirvington
13. Wildefire by Karsten Knight
14. Starcrossed by Josephine Angelini
15. Sometimes It Happens by Lauren Barnholdt
16. Just One Day by Gayle Forman
17. Such A Rush by Jennifer Echols
18. She's So Dead to us by Kieran Scott
19. Cinder by Marissa Meyer
20. Goose Chase by Patrice Kindl
21. Grave Mercy by Robin LaFevers
22. The Darkest Minds by Alexandra Bracken
23. Corset & Clockwork: 13 Steampunk Romances by Trisha Telep
24. Unraveling Isobel by Eileen Cook
25. Scary Mary by S. A. Hunter
26. So Much Closer by Susane Colasanti
27. Overprotected by Jennifer Laurens
28. Getting the Girl by Markus Zusak
29. Prom Nights from Hell by Trisha Telep
30. Scary Mary by S. A. Hunter
31. The Chosen One by Carol Lynch Williams
Read:
10,404/30,000